Books & Journals Available
---
Occasionally I manage to obtain second/third copies of hard to find books and magazines on the early exploration and rock-art of the Libyan Desert. Currently the titles below are available (note, if a title you have seen previously on this page is no longer visible, it is sold):
NOTE: I can also provide scans of some articles listed in the bibliography burned onto a CD at cost. Email me for details.
To purchase "Rock Art of the Libyan Desert" please click on the DVD cover below: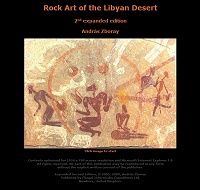 To purchase the english translation of the works of László Almásy please click on the CD cover below: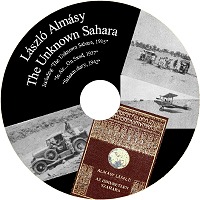 To purchase any of the below items, click on the "Buy Now" button corresponding to your currency / geographical area. This will take you to a secure PayPal payment page (must register), where you may use any international debit or credit card to make the payment. Note, that all processing will be done through PayPal, I will have no access to your card details, only will receive a confirmation email. Alternately (or if the buttons do not work, may happen with certain browser/setting combinations) you may send payment direct via PayPal to info@fjexpeditions.com. Worldwide shipping is included in the prices. You can also email me for other payment options if you do not wish to make an online payment. Please also send email if you wish to purchase more than one title.
---



ALMÁSY, Lászl&oacute Ede, Levegöben... homokon... (In Air... on Sand)
Magyar F&oumlldrajzi Társaság Könyvtára
(Hungarian Geographical Society Library) series
Franklin, Budapest, 1937

Click on cover to see larger image

A very good condition copy of this very scarce second book of Almásy in the MFTK series. It only had a single edition, this copy appears to be of the first printing attested by the purple endpapers. It is in the "Classic IV" binding (cloth with plain gilt decoration, no insets) variant, relatively the commonest among the three known variants (I have not yet seen any examples of the other two). Overall it is an exceptionally fine copy of this very scarce work, with just some minor fading of the gilt decoration and a flawless interior.
Price includes CD with the english translation of the works of Almásy
NOTE: 16% discount from combined price if purchased together with any of the Ismeretlen Szahara copies.



| | | | | |
| --- | --- | --- | --- | --- |
| EUR 220 | / | USD 295 | / | GBP 190 |
| <! payment button 220 Euros> | | <! payment button 295 Dollars> | | <! payment button 190 Pounds> |







ALMÁSY, Lászl&oacute Ede, Ismeretlen Szahara (Unknown Sahara)
Magyar F&oumlldrajzi Társaság Könyvtára
(Hungarian Geographical Society Library) series
Franklin, Budapest, 1934

Click on cover to see larger image

A very good condition copy of this first published account of Almásy's explorations. It is a First Edition copy, in the scarce "Classic III" binding (with blue insets on the gilt globe and on part of the decoration) variant. The impressed gilt decoration is a bit faded on the spine, but perfect on the cover. Interior is in near mint condition, no damage or markings except for the inevitable yellowing of the pages due to the quality of the paper used.
Price includes CD with the english translation of the works of Almásy



| | | | | |
| --- | --- | --- | --- | --- |
| EUR 165 | / | USD 225 | / | GBP 145 |
| <! payment button 165 Euros> | | <! payment button 225 Dollars> | | <! payment button 145 Pounds> |







ALMÁSY, Lászl&oacute Ede, Ismeretlen Szahara (Unknown Sahara)
Magyar F&oumlldrajzi Társaság Könyvtára
(Hungarian Geographical Society Library) series
Franklin, Budapest, 1934

Click on cover to see larger image

A very good condition copy of the Second Edition of Ismeretlen Szahara, only known in this "Classic IV" binding (cloth with plain gilt decoration, no insets) variant, relatively the commonest edition/binding combination. The impressed gilt decoration is practically flawless both on the cover and the spine, the reason it does not have an excellent rating is because of the rubbing on the top and bottom of the spine and the hinges are cracked on the inside, making the binding a bit loose. Otherwise the interior is in a good condition save for some minor foxing and the usual darkening of the pages.
Price includes CD with the english translation of the works of Almásy



| | | | | |
| --- | --- | --- | --- | --- |
| EUR 125 | / | USD 170 | / | GBP 105 |
| <! payment button 125 Euros> | | <! payment button 170 Dollars> | | <! payment button 105 Pounds> |







ALMÁSY, Lászl&oacute Ede, Ismeretlen Szahara (Unknown Sahara)
Magyar F&oumlldrajzi Társaság Könyvtára
(Hungarian Geographical Society Library) series
Franklin, Budapest, 1934

Click on cover to see larger image

A good condition copy of the Second Edition of Ismeretlen Szahara, only known in this "Classic IV" binding (cloth with plain gilt decoration, no insets) variant, relatively the commonest edition/binding combination. The impressed gilt decoration shows some fading and wear both on the spine and cover, the hinges are cracked on the inside making the binding loose. Otherwise the interior is in a very good condition with no foxing and only a minor darkening of the pages.
Price includes CD with the english translation of the works of Almásy



| | | | | |
| --- | --- | --- | --- | --- |
| EUR 85 | / | USD 115 | / | GBP 75 |
| <! payment button 85 Euros> | | <! payment button 115 Dollars> | | <! payment button 75 Pounds> |







BAGNOLD, Ralph Alger, Libyan Sands
Immel, London, 1993

Click on cover to see larger image

A good as new copy of the affordable 1993 paperback edition of Bagnold's classic work on his travels in th Libyan Desert.




| | | | | |
| --- | --- | --- | --- | --- |
| EUR 40 | / | USD 55 | / | GBP 35 |
| <! payment button 40 Euros> | | <! payment button 55 Dollars> | | <! payment button 35 Pounds> |







BAGNOLD, Ralph Alger, Libyan Sands
Immel, London, 1993

Click on cover to see larger image

A second copy of the affordable 1993 paperback edition of Bagnold's classic, not quite as pristine as the first copy, but still a very good one, with only a few minor signs of having been used and read. A little rubbing on the top and bottom, small bumps to the corners, otherwise a tight and clean copy, no markings or any creases in the interior.




| | | | | |
| --- | --- | --- | --- | --- |
| EUR 30 | / | USD 40 | / | GBP 25 |
| <! payment button 30 Euros> | | <! payment button 40 Dollars> | | <! payment button 25 Pounds> |







The National Geographic Magazine
September, 1924

A good clean copy of the issue containing the article "Crossing the Libyan Desert" by Ahmed Hassanein Bey. The photos accompanying the article are identical to those in the "The Lost Oases"



| | | | | |
| --- | --- | --- | --- | --- |
| EUR 22 | / | USD 30 | / | GBP 19 |
| <! payment button 22 Euros> | | <! payment button 30 Dollars> | | <! payment button 19 Pounds> |




---