Cistanche phelypaea
---
Observations:
Karkur Talh (Jebel Uweinat), October 2006, following rains of 2005
Karkur Ibrahim (Jebel Uweinat), observation by Alessandro Menard-Noguera, December 2007, following rains of 2007
---
A single cluster of this parasitic species was noted in lower Karkur Talh in October 2006, in a dried state. The host Aerva persica was also completely dry. The cluster was not observed in October 2005 following the rains of 2005, however the host plant was in a fresh state at that time.
In late December 2007, Alessandro Menardi-Noguera observed a growing specimen emerging from the gravel in upper Karkur Ibrahim, approximately 5 months after the rain event that year.
Lower Karkur Talh (Jebel Uweinat), near end of 2005 rain runoff, October 2006. (On Aerva persica host plant)


The host Aerva persica
in October, 2005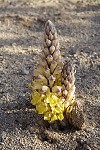 Karkur Ibrahim, December 2007
(Photo by Alessandro Menardi-Noguera)