Schistocerca gregaria
(Desert locust)
---
Observations:
---
Aside the single specimen noted in the Gilf Kebir, no desert locusts were observed throughout the Libyan Desert till the autumn of 2003, when scattered individual adults were seen at both Jebels Arkenu and Uweinat, but not in the Gilf Kebir or elsewhere. In October 2004 locusts were conspiciously absent, however only three weeks later, in November 2004 the whole area of the Libyan Desert between the Egyptian oases (starting from Abu Mungar) and Jebel Uweinat was densely filled with swarming adults. Driving along at a speed of about 80 kilometres per hour, a locust was noted every 30-60 seconds, translating into roughly a dozen individuals per square kilometre.
Following the rains of September 2005 at Jebel Uweinat, a single adult specimen was noted among fresh vegetation in Wadi Handal in mid-october.
In March 2013 both swarming and non-swarming adults were numerous in the South Libyan Desert at any point with vegetation, but none were observed at or in the vicinity of Jebel Uweinat.
"The Gap", Gilf Kebir
30th October, 1998
(approx. 1pm)
non-swarming adult


Jebel Arkenu
25th October, 2003
(approx. 3pm)
non-swarming adult


Jebel Arkenu
26th October, 2003
(approx. 8am)
non-swarming adult


Karkur Talh
28th November, 2004
(approx. 4pm)
swarming young adult


South Uweinat
(near "Man Rock")
30th November, 2004
(approx. 2pm)
swarming young adult


Wadi Handal
27th October, 2005
(approx. 4pm)
non-swarming adult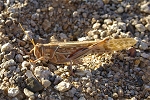 Emeri Highland
21st November, 2010
(approx. 9am)
non-swarming adult


Selima Oasis
10th March, 2013
(approx. 3pm)
swarming mature adult


Selima Sand Sheet
20th March, 2013
(approx. 3pm)
non-swarming adult feeding on Capparis decidua


Selima Sand Sheet
20th March, 2013
(approx. 3pm)
Swarming mature adult feeding on Capparis decidua