Loss of three SAAF Blenheim Aircraft near Kufra
4th May 1942
Sources:

SAAF 15th SQ. Detachment War Diaries
Public Records Office, London
RAF Proceedings of Court of Inquiry, June 1942, Kufra (courtesy Francois de Wet)
On the 30th of April, 1942 a detachment of the 15th Squadron of the South African Air Force, consisting of three Bristol Blenheim Mk.IV. aircraft, under the command of Major J.L.V. de Wet arrived at Kufra, to provide air support to the Garrison maintained by the Sudan Defence Force. On the morning of 4th May, the three aircraft took off on a familiarization and practice mission, never to return. The grim story of the next week is detailed in the War Diary entries:
Place
Date
Time
Summary of Events and Information
KUFRA
3rd
1900
Briefing by the officer commanding
4th
0600
All three aircraft took off on first flight; indended duration 1 hour 45 minutes.
W/T contact very weak. Weather at Kufra good.
Failed to return. Frequency signal sent to D/F STATION and 203 GROUP, 12.00 hours, requesting news and search aircraft. 2nd class 'fix' obtained on one aircraft in late evening. Further signal requesting help from 203 GROUP; 15 Squadron signalled.
Ground Party prepared for first light start 5th May.
Consultation with KHAIMEKAH UPCHER BEY, Officer Commanding Troops, KUFRA, who directed groun search parties, and provided BIMBASHI STUBBS and SUDAN DEFENCE FORCE Personnel and Vehicles to assist.
5th
0650
Ground/Search Party left, S.D.F. and one 3-tonner and two 30cwt. vans, one with Wireless, the other equipped as Ambulance.
KUFRA
6th
0900
Weather closed in, sand storm.
2 Bombays forced landed 50 miles away owing to poor visibility. Message intercepted by D/F STATION from BOMBAYS to WADI HALFA, but communication not established with them, since they did not know that D/F STATION existed.
7th
Weather still bad; ground party sent by UPCHER BEY to contact BOMBAYS - 1400 hours. Failed to find them and returned 9th May. Second Ground Party sent out to take supplies to BIMBASHI STUBBS and to assist in search.
News from Squadron that LT.COL.BORCKENHAGEN on his way here to take over the Search.
8th

1430
Weather lifting; BOMBAYS returned to WADI HALFA.
WELLINGTON, SQUADRON LEADER WARREN, 162 Squadron, arrived, sent by HEADQUARTERS, R.A.F., M.E.
Took off again 15.30 hours; searched, landed 18.00 hours.
9th
WELLINGTON took off first light; SQUARE SEARCH; found one aircraft 12.45 hours; landed, no survivors; returned to KUFRA 13.30 hours.
2 BOMBAYS, 216 Squadron, arrived 14.00 hours. Search continued. Ground Party directed to found aircraft to bury the dead.
Second WELLINGTON arrived 15.00 hours.
10th
Search continued first light to last light.
KUFRA
11th
0330
LT. COL. BORCKENHAGEN, Commanding Officer, 15 Squadron, S.A.A.F., arrived by Motor Transport. His aircraft having gon u/s at WADI HALFA.
First light search continued.
12.30 hours remaining 2 aircraft found by first WELLINGTON; one survivor.
2 more Wellingtons arrived 14.30 and 14.45.
2 Blenheims, 15 Squadron, arrived 13.00 - the pilots of these aircraft were Major Jones and Lieut. Steenberg.
Ground Party directed to the 2 aircraft.
Dead:
Major J.L.V. de Wet, Lieut. J.H. Pienaar, 2/Lt. L.T.H. Wessels,
2Lt. J.S. du Toit, 2/Lt. F.J. Reed, 2/Lt. H. Pienaar,
A/Sgts. W.W. Olivier, A/Sgt. A.P. Voss, A/Sgt. S.E. Shipman,
A/Mec. R.J. Swanepoel, A/Mec. C.F. van Breda
The only survivor A/Mec. Juul.
12th
1630
Ground Party returned. Search Aircraft started to leave.
13th
0900
Ground Party sent out to refuel and repair force-landed aircraft.
15th
0900
Two of force-landed aircraft flown in to KUFRA; third abandoned.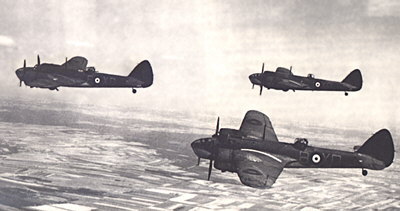 The testimony of Noel St Malo Juul, the sole survivor, during the subsequent Court of Inquiry is a shocking listing of the DON'T-s of desert survival:
I am an armourer in 15 S.A.A.F. Squadron detachment, KUFRA. On the evening of May 3rd I was detailed by Maj. de Wet to fly in his aircraft on the following morning on a Triangular patrol flight. We took off in formation and started our flight at 06.00 hrs. on May 4th. We completed our patrol as detailed with Maj. de Wet leading throughout the flight, and returned over KUFRA about 08:30 hrs. We flew then away from KUFRA as we had time to spare, but I do not know in which direction. After about half an hour the engine of T.2252 started cutting. This was the starboard engine, and therefore we all force-landed together. The pilots and observers discussed then our position with the aid of maps. At about 11.00 hrs. one aircraft took off and flew away between South and West, as the pilots thought they have ascertained their position from the surrounding hills. This aircraft returned after about half an hour. The pilot 2/Lieut. Wessels could not find KUFRA. We had all this time been transmitting but received no replies. At about 15.00 hrs. on the 4th of May, 2/Lt. Wessels took off again and flew east of South and returned after half an hour. For this flight he had taken some of the petrol from T.2252. he said on returning that KUFRA was not in that direction. we then spent the night all together.

On the morning of the 5th May we drained all the petrol from T.2252 and put it into Z.7513. 2/Lieut. Wessels took off about 11.15 hrs. in a northerly direction, and returned after about half an hour. He had nothing to report, so it ws decided to do no more flying that day.

On the morning of the 6th May, 2/Lt. Pienaar decided to take off in Z.7513 and fly west as this was the only direction that has not been searched. He did not return. We were still trying to receive wireless messages without success.

We were condfident all the time that a search party would find us. Maj. de Wet was uncertain of his position as he had been circling for a suitable forced landing ground. The visibility had been good during all the flights. There was no argument as to our position.

We did not ration the water on the 4th May, and by the following morning had consumed nearly 20 gallons, when we decided to ration water. On the morning of the 6th we received our last ration. On that afternoon we broke open the compasses to extract the alcohol.

On the 6th May in the morning a sand storm blew up, and so we took out the fire extinguishers and used them in the usual manner to try and keep ourselves cool. They relieved us temporarily but soon produced blisters which burst into sores.

The first member of the crews died on the 7th May. It was suggested to Maj. de Wet that he should shoot them as all hope of being found had been given up, but we persuaded him to stick it out. One of the crew, who drank too much alcohol, shot himself from the pain from the alcohol in his stomach. Morphia was used to relieve the pain from the fire extinguisher burns. gentian Violet was also used to relieve the pain of burns, but this gave little relief.

At regular intervals throughout every night we were firing Very lights and tracer ammunition from the turret guns. No ground strips were laid out except to lie on, but a parachute was laid out on a nearby hill. No aircraft nor ground patrols were seen. we did not light any fire.

When at last I did see the Wellington, I was the only one alive, and although I was too weak to fire a Very light I managed to put out some ground strips. The aircraft landed and I was flown back to KUFRA.

The diary of Major de Wet was found, and attached to the Court of Inquiry Proceedings: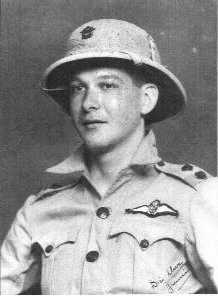 Monday 4th
Took off 0600 hrs and led 7610 and 2252 on flight Rebiana - Bzema and L.G. No.7. On last leg (No. 7 to Cufra) D.F. gave course to steer 305 deg. On E.T.A. turned to 305 found lost so flew on 125. 2252 engine trouble so landed.
Searched by 7610 and 7513 no avail.
Tuesday 5th
D.F contact helio, Cufra, etc. but we cannot receive. they definitely receive us - Kufra gave us Q. 5713 to East gilf 45 miles 90 deg. hannes, frank and Oliver in 5713 on bearing 290 - 100 miles. Did not return.
Wednesday 6th
7610 in bearing 290 - saw nothing. Our last water. Only 1 bottle per man. Sandstorm in afternoon. Most of the fellows dead - started dying 1400 hrs. Still alive but for how long. Van Breda very weak. Still some water left. Broke compass for alcohol - it's stimulating. Not so much heat as previous days - but one must have water.
Thursday 7th (?)
Boys are going mad wholesale - they want to shoot each other - very weak myself - will I be able to stop them and stop them from shooting me - Please give us strength.
Friday
6 of us left - out of 12 - no water - we expect to be all gone today. Death will be welcome - we went through hell.
Saturday 9 (?)
Hope, Sgt. Vos and Lew also gone. Only me, Shipman and Juul left. we can last if help arrives soon - they know where we are but do not seem to do much about it. Bit of a poor show isnt it. But we will try to stick it out to the very (From this point it is impossible to know what the date is)
Sunday 10th
It's the 5th day, second without water and 5th in a temp. of well over 100, But "Thy will be done, Oh Lord".
"Ons kan niks doen behalwe le en wag - miskien kom ons nog weg uit die Hel op Arde Hou diuwels vas hoor !" (We can do nothing except lie and wait - perhaps we may yet get away from this Hell on Earth - Hold tight.)
After an extensive hearing of withesses the Court of Inquiry made the following findings:
The cause of the accident was in our opinion:-

1. The causes of the aircraft forced landing were:

(a) Lack of experience in desert flying by pilots and observers

(b) Failure by the observers to keep accurate navigator's logs

(c) Inability of wireless operators to carry out their duties in the air.

2. The reasons why the searchers failed to locate the three aircraft sooner were:

(a) GROUND SEARCH Lack of accurate information regarding the probable position of the aircraft, difficult terrain, and sand storm conditions made search from the ground far from easy. Nevertheless every effort was made both by No. 15 Squadron detachment and the Sudan defence Force who gave every possible assistance.

(b) AIR SEARCH Despite three aircraft being detailed by No. 203 Group on the day of the loss on prompt advice from No. 15 Squadron detachment, the Bombay did not receive the signalled instructions from Wadi Halfa, the Blenheim became unservicable at Wadi Halfa, and the Wellesley force landed at Station 6. This caused a fatal delay of twenty four hours as on the two following days (May 6th and 7th) visibility in the Kufra area made flying impossible; this weather also affected two other Bombay aircraft sent from No. 216 Squadron by H.Q. R.A.F. M.E. but in addition these did not obtain the call sign of Kufra HF/DF. station. On receipt of instructions from H.Q. R.A.F. M.E. No. 162 Squadron took very prompt and efficient action which resulted in the finding of all three aircraft, the first being located about 36 hours after the original instructions were received by the Squadron.

(c) ASSISTANCE GIVEN BY FORCED LANDED CREWS
(i) Bad D/F procedure even on the ground
(ii) lack of visual signs by day (particularly ground strips and smudge fires)

3. The reasons of the early death of the personnel were:

(a) Failure at first to appreciate their plight.

(b) Failure to ration their water immediately.

(c) Unintelligent use of compass alcohol and fire extinguishers.

...

The Court makes the following recommendations:-

1. That every aircraft likely to fly over desert carries as part of its desert equipment a pamphlet setting out comprehensive instructions covering

(a) Visual signals to be displayed by day and by night.

(b) Information regarding the most economical rationing of food and water.

(c) Precise details as to the use of the first aid kit.

(d) A list of "Donts" regarding compass alcohol, fire extinguishers, urine, leaving the aircraft, etc., etc.

(e) Special instructions regarding the particular type of equipment and its equipment.

2. That only crews experienced in flying over desert should be based at places such as Kufra.

3. No flying should be carried out from Kufra unless at least one serviceable aircraft and crew remains on ground.

4. That no aircraft should leave the vicinity of Kufra until effective two way wireless communication has been established with ground station.

5. That more attention must be paid by navigators to the strict maintenance af accurate navigators' logs at all times.
---
On the 10th & 11th of November, 2001, during our trip to SE Libya, we have relocated both the forced landing ground, and the possible remains of Z.7513.
---
By a very strange quirk of fate, during research on the SAAF Blenheims, it emerged that a very similar incident happened to another Blenheim IV of the Groupe Lorraine of the Free French Air Force. On the 5th February 1941, during Leclerc's Kufra campaign, Blenheim T1867 became lost on it's return flight to Faya after bombing Kufra. The remains of the aircraft and the crew beside it were found 18 years later in Ennedi, 250 kilometres to the south east of Ounianga.


Click onthe image to learn more on the incident and the Groupe Lorraine
---